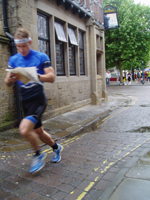 The 2007 series finally kicked off on bank holiday monday in a rather damp York City Centre. The weather did not deter a high quality international line–up turn out however including several GBR squad athletes and Finlands' Mats Haldin. The little streets and allyways always prove a real test even for the best and it was a closely fought battle for the 1st wins of the series. Murray Strain, in preparation for the LAMM (?!), ran well to complete the 5km course in 26.09 but a mistake due to having a used map cost him the win as Mats Haldin pipped him by 1sec and taking the maximum12points. Neil Northrop rounded off the top 3.
In the womens race World student championship multi–medal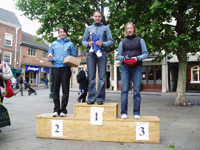 winning Helen Bridle took all 12 points and the victory over Lizzie Adams with Rachel Elder having to settle for 8 points and 3rd place.
The UK Cities Cup rolls on to Glasgow on the 8th July where a new event and map awaits the athletes as well as more top prizes up for grabs courtesy of our friends at INOV8.
Full race results here
Overall series standings here
Map and Routegadget here
Race photos here