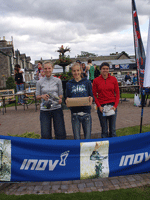 The village of Kingussie played host to the 3rd UK Cities Cup series race. The bar was raised again in terms of event organisation for the series by local club BASOC and 300 competitors turned up on their rest day from the Scottish 6 Day to take part.
WOC-bound Graham Gristwood took the mens victory from current series leader Murray Strain. Only one route choice seperated the two creating an exciting, close fought battle. Nick Barrable of SYO took 3rd place.
There was drama in the womens race as three WOC-bound athletes were upstaged by 16 year old Mairead Rocke. Mairead won by only 4secs from Clyde's Helen Palmer with Pippa Whitehouse in 3rd place. Helen's 2nd place means that she now is outright leader of the series in the womens class going into the Lincoln race.
As the series gains momentum the races seem to be getting better and better, for which all thanks must go Donald McCarthy. The Uk Cities Cup roadshow returns to England, more specifically Lincoln, where urban orienteering planning specialists are busy putting together the final touches to their race. Don't miss out, get your entries in now! Full details here
Full reaction and views about the race here
Full race results here
Overall series standings here
(Some) Race photos here and here - email me if you have any race photo sets.