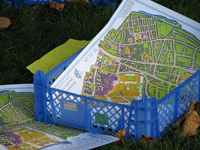 The 1st UK Cities Cup Urban Orienteering Series came to a close with the completion of the Oxford City Race on Saturday. However there was much to be decided on the day with only two points seperating the top two women overall.
The popularity of the Oxford City race continued with another good turnout in all classes. The courses were slightly less technical than last year but still proved to be a good test for all who took part. As always the courses were well planned and organised as you have come to expect from this establish urban race fixture.
With a strong women's field it was much more than a straight fight between Helen Palmer and Laura Daniel for the 1st UK Cities Cup title and the final results reflected this. Series debutant Seline Stalder took the victory with Sarah Rollins in 2nd and Helen Winskill in 3rd, the top 3 some distance ahead of the rest. Helen Palmer had to settle for 4th place and hope that Laura would not finish higher than 7th...and that was exactly where she ended up, handing the overall title to Helen.
In the men's race, Nick Barrable finished over 3mins ahead of the rest taking the final race victory and in doing so, pulled himself up to 3rd in the overall standings. That completed the top three overall with top spot having already been decided before the race. Phil Winskill went one better than his partner finishing in 2nd with ShUOC's Marcus Pinker having settle for 3rd place.
Full reaction and views about the race here
Full race results here
Overall series standings here
with photos here (nopesport), here and here.
So that raps up the UK Cities Cup for 2007. A big thanks to all who were involved in making the series happen in particular the race organisers/planners and clubs for allowing their races be part fo this series. Also a big thanks to our headline sponsor INOV8 and sponsors Rock & Run, Oentries and Emit UK for continued support through the series. We are keen to know what your thoughts are on how the series went, what improvements can be made etc. please contact us.
Plans are well under way for the 2008 series with a number of alterations and improvements planned including the introduction of junior, vet & super vet classes as well as a 'constructors championship' also in the pipeline. We are also hoping to take the series to a couple of new venues and even a brand new map! Keep an eye out here for more details soon!!
If you feel that you or your club would like to get involved in some way or have an area that you think would be perfect for the UK Cities Cup let us know!